[ad_1]

House prices across the country are continuing their upward trajectory with a better than expected 1.1 per cent increase in the month of January.
In what is typically a quiet seasonal period, the house price growth that we've become accustomed to in 2021, has continued in the new year.
Once again it was Brisbane and Adelaide that continue to be the best performing markets in the country. Brisbane dwelling vales increased by 2.3 per cent in January, outpacing a very strong Adelaide market that saw growth of 2.2 per cent.
Over the past three months, both markets have outperformed the other capital city markets with growth of 8.3 per cent and 7.4 per cent.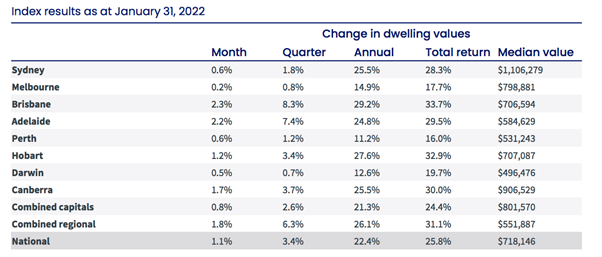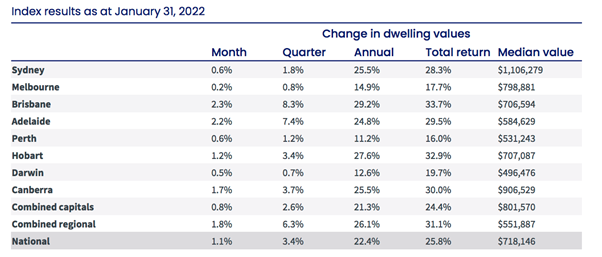 Source: CoreLogic
Sydney and Melbourne both stabilised in January and saw some growth, with increases of 0.6 per cent and 0.2 per cent. While Canberra and Hobart are also continuing to see momentum with price increases of 1.7 per cent and 1.2 per cent.
The mining focused, Perth and Darwin continue to be the softest markets in the country with growth of 0.6 per cent and 0.5 per cent.
CoreLogic's Research Director, Tim Lawless said the results show demand remains strong but notes January is normally the seasonal low for transactions.
"As the volume of home sales moves out of seasonal lows, we should get a firmer reading on how 2022 is shaping up," he said.

"The early indication is that housing markets are starting 2022 with a similar trend to what we saw through late last year. Values are still broadly rising, but nowhere near as fast as they were in early 2021."
"A softening in growth conditions has been influenced by less government stimulus, worsening affordability, rising fixed term mortgage rates and, more recently, a slight tightening in credit conditions, and a surge in new listings through the final quarter of last year."
Over the past 12 months, Australian dwellings are up 22.4 per cent which is the highest annual rate of growth since June 1989. This has been led by Brisbane that has seen house prices increase by 29.2 per cent in 12 months.
Regional areas have also been incredibly strong over the past year, with gains of 26.1 per cent, which has outpaced most major capital cities.
For the regional areas, the bulk of the monthly gains continue to come from ​​regional Queensland (2.0 per cent) and regional South Australia (2.1 per cent), however, every broad 'rest of state' region recorded at least a 1.2 per cent gain, demonstrating a depth of demand for regional housing.
Houses are also seeing stronger growth than units, with values up 1.3 per cent in January compared with a 0.3 per cent rise in unit values. This has been a trend that has been apparent throughout the pandemic.
Thanks to the rampant growth over the past 12 months, three of the eight capital cities now have a median house value over the $1 million dollar mark, with Melbourne and now Canberra reaching the milestone.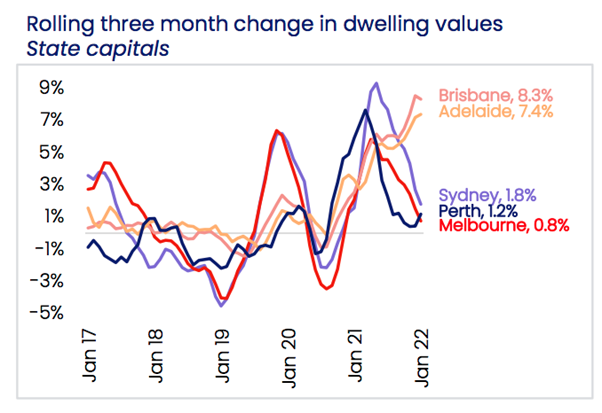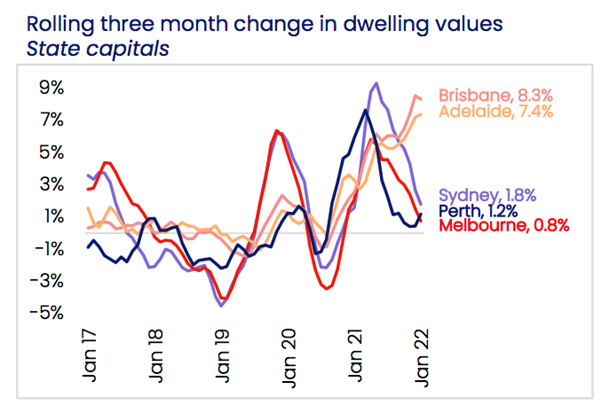 Source: CoreLogic
Listings on the Rise
The new year bought an influx of new listings across all the major capital cities and many regional areas.
New stock is 5.7 per cent higher than a year ago but still 7.1 per cent below the previous five-year average. Overall, total listings remains below the long term averages, with Melbourne being the only capital where total advertised stock levels are above average (+1.7 per cent) with Sydney (-11.8 per cent) in second place.
At the other end of the scale is Adelaide (-50.1 per cent) and Brisbane (-46.8 per cent) where inventory levels remains exceptionally low.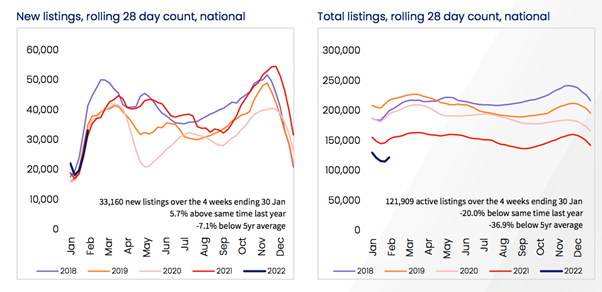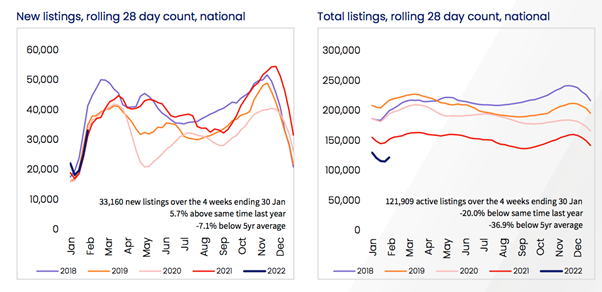 Source: CoreLogic
Mr Lawless notes that supply levels are currently playing a big part in the locations where prices are rising.
"The trends in advertised supply levels go a long way towards explaining the performance of housing values," he said.
"Melbourne and Sydney have seen inventory levels normalise over recent months, taking some urgency out of the market as supply and demand become more evenly balanced.

"The situation in Adelaide and Brisbane is very different; supply remains tight and buyer competition is a key factor supporting the upwards pressure on prices."
Around the country, the number of transactions taking place is still at record high levels. Last month, activity across Australia was estimated to be 15.1 per cent higher than January last year and 39.4 per cent above the previous five-year average.
The pace of rental growth in Australia has also been easing since peaking in March last year. At that time, the national rental index was up 3.2 per cent in the March quarter, falling to a quarterly growth rate of 2.0 per cent over the three months ending January 2022.
The slowdown in rental increases has been most notable in Darwin and Perth. Annual growth in Perth rents peaked at 16.9 per cent in June 2021, slowing to 8.8 per cent in January. In Darwin, rental growth peaked at 22.3 per cent in the year to August 2021 and was 11.7 per cent in January.
Looking Forward
CoreLogic notes that the housing market has started the year in a similar fashion to how it ended in 2021, however, the rate of house price growth is slowing down.
There's currently a two-speed housing market with the bulk of the gains coming from both South Australia and Queensland.
On the horizon, there are a number of headwinds that would potentially reduce buyer demand including the prospect of rising interest rates from the RBA, higher fixed-rate mortgages that continue to increase from the lenders and the prospect of inflation not getting pulled into line by the RBA. There is also the possibility of more macroprudential measures from APRA.
Mr Lawless notes the level of listings will be important to watch early in the year.
"If inventory levels rise and demand reduces, we should start to see vendors and buyers becoming more evenly balanced in the market, reducing the sense of FOMO that has been a key factor in pushing up prices through the pandemic," he said.
"We may already be seeing this trend evolve in markets like Melbourne where total listings have returned to above average levels and the pace of capital gains has cooled. "
CoreLogic believes 2022 will be a year of greater diversity in housing markets with labour markets, demographic patterns, supply levels and affordability all playing important roles in which markets continue to outperform.


[ad_2]

Source link