[ad_1]

November has proved to be another strong month for house prices around Australia, continuing the upward trend that has been in place for 14 months.
The latest data from CoreLogic shows that Australian house prices increased in value by 1.3% in November and taking house prices 22.2% higher than the same time last year. However, while this has been a period of very strong growth, momentum is showing signs of slowing down after a sharp increase in listings has started to ease the supply shortages.
Around the country, it was Brisbane and Adelaide that have been the two strongest performing markets in recent months. In November, Brisbane dwelling values increased in value by 2.9% while Adelaide rose 2.5%.
With lockdowns easing, there's been a surge of listings in Sydney and Melbourne and both cities have started to see price gains slow down. Sydney values increased 0.9% in November, while Melbourne increased by 0.6%. Hobart and Canberra both continued to show strong gains of 1.1%. Darwin struggled in November, with dwelling values falling 0.4%.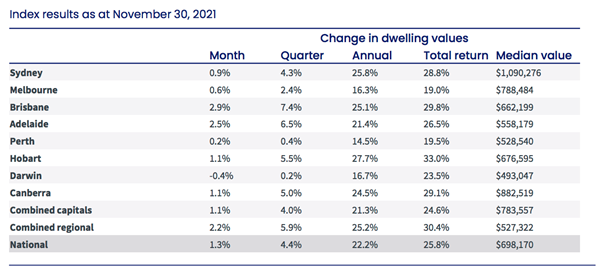 Source: CoreLogic
Over the past 12 months, Hobart has been the standout performer, gaining in value by 27.7%, while Sydney was the next best performed market gaining 25.8%.
While prices have been increasing at a record rate, it appears that momentum is finally starting to slow down. The 1.3% increase in house prices is the slowest since January when values rose 0.9%.
Head of Research at CoreLogic, Tim Lawless, says the slowdown in the pace of growth is due to a number of factors.
"Virtually every factor that has driven housing values higher has lost some potency over recent months. Fixed mortgage rates are rising, higher listings are taking some urgency away from buyers, affordability has become a more substantial barrier to entry and credit is less available."
Mr Lawless notes that there is still a discrepancy between the overall growth of different cities, with Brisbane and Adelaide not suffering from the same conditions as Sydney and Melbourne.
"Relative to the larger cities, housing affordability is less pressing, there have been fewer disruptions from COVID lockdowns, and a positive rate of interstate migration is fuelling housing demand."
"On the other hand, Sydney and Melbourne have seen demand more heavily impacted from affordability pressures and negative migration from both an interstate and overseas perspective."
Stock Levels Impacting Prices
One of the biggest factors that has been slowing growth in Sydney and Melbourne has been the increase in stock on the market. In contrast, total stock available for sale across Adelaide was – 32.0% lower than the five-year average, and -33.9% lower across Brisbane. Across Sydney and Melbourne, stock levels have become far more normalised in recent weeks, with Sydney total listings sitting just -2.6% below the five-year average, while stock levels across Melbourne are 7.9% above the five year average.
Nationally, the number of new listings added to the market over the four weeks ending November 28th was tracking 15.7% above the five-year average, the highest level since late 2015.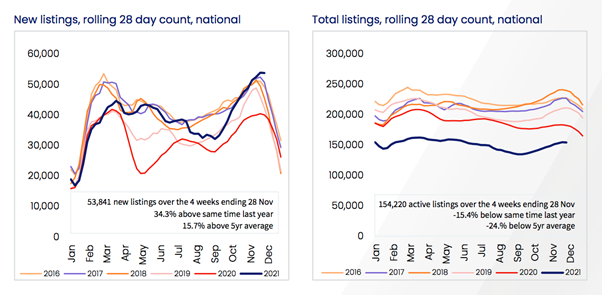 Source: CoreLogic
"Fresh listings are being added to the market faster than they can be absorbed, pushing total active listings higher. More listings imply more choice and less urgency for buyers," Mr Lawless said.
"Although inventory levels are rising, the upwards trend is from an extremely low base. The total number of active listings has increased by 67.3% since early September, but stock levels remain -24.0% below the five year average for this time of the year. We expect inventory levels will continue to normalise into 2022 which should see selling dynamics gradually shift away from vendors, providing buyers with some additional leverage at the negotiation table."
The increased number of listings is also causing selling times to increase as well as putting downward pressure on auction clearance rates, which slipped under 70% in both Sydney and Melbourne over the past week.
"The rise in listings and softening of key vendor metrics implies the housing market may be moving through peak selling conditions, however, it will be important to see if this trend towards higher listings continues after the festive season," Mr Lawless said.
According to CoreLogic, the outlook for Australian housing markets remains positive, however, the pace of capital gains has lost momentum across most regions since April. This trend towards slowing growth is likely to continue into next year and beyond. Most of the factors that have been pushing housing prices higher have either diminished or expired.
As more supply comes onto the market, CoreLogic expects the heat to come out of most markets around the country. This factor combined with fixed rates rising and the potential for the RBA to increase interest rates earlier than expected should see the rate of price appreciation to slow down in the months ahead. However, the historically low interest rate environment will continue for the foreseeable future, helping to stoke property markets.


[ad_2]

Source link