[ad_1]

Property prices across Australia have continued to move higher in March led by the smaller capital cities.
While national property prices have increased 0.7 per cent, Brisbane continues to outperform by jumping 2 per cent in March, while Adelaide increased by 1.9 per cent according to the latest data from CoreLogic.
Canberra property prices rose 1 per cent along with Perth, while Darwin values increase by 0.8 per cent. Sydney prices were -0.2 per cent lower over the month, while Melbourne also fell by -0.1 per cent.
Nationally, the annual rate of growth has fallen under 20 per cent to 18.2 per cent for the first time since August last year, after reaching a high of 22.4 per cent in January 2021.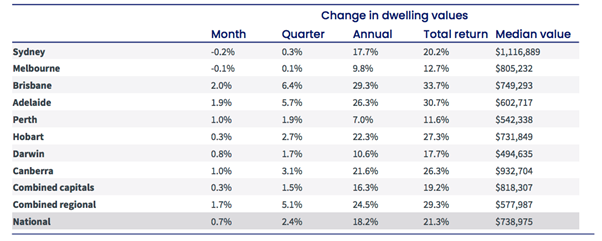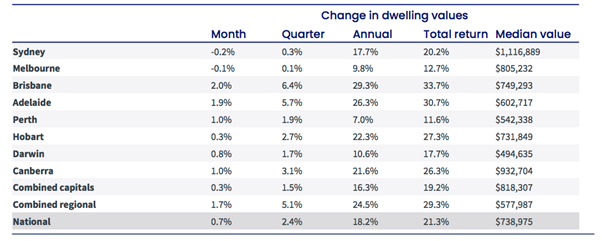 Source: CoreLogic
CoreLogic's research director, Tim Lawless, said most markets around the country are seeing weaker growth rates than last year.
"Virtually every capital city and major rest-of-state region has moved through a peak in the trend rate of growth some time last year or earlier this year," Mr Lawless said.
"The sharpest slowdown has been in Sydney, where housing prices are the most unaffordable, advertised supply is trending higher and sales activity is down over the year."
"There are a few exceptions to the slowdown, with regional South Australia recording a new cyclical high over the March quarter and some momentum is returning to the Perth market where the rate of growth is once again trending higher since WA re-opened its borders."
Regional Australia continues to appeal to buyers with regional areas rising at more than three times the pace of the combined capital cities through the March quarter according to CoreLogic.
Regional dwelling values increased 5.1 per cent in the three months to March, compared with the 1.5 per cent increase recorded across the combined capital cities. The rolling quarterly growth rate in regional dwelling values has consistently held above the 5 per cent mark since February 2021.
After seeing transaction levels soar in 2021, sales activity is also starting to slow down.
Transaction volumes for the March quarter is 14.3 per cent lower than the same period in 2021, but still 12.2 per cent above the previous five-year average.
"Nationally, the volume of housing sales is coming off record highs but there is some diversity across the capital cities in these figures as well," Mr Lawless said.
"Our estimate of sales activity through the March quarter is 39 per cent lower than a year ago in Sydney and 27 per cent lower in Melbourne, while stronger markets like Brisbane and Adelaide have recorded a rise in sales over the same period."
One of the reasons behind the slowdown in Sydney and Melbourne has been the surge in listings across both major cities.
In Melbourne, listings are 8 per cent above the previous five-year average towards the end of March, while the number of homes available to purchase in Sydney had normalised to be 7.5 per cent higher than a year ago and only 2.6 per cent below the five-year average.
"With higher inventory levels and less competition, buyers are gradually moving back into the driver's seat. That means more time to deliberate on their purchase decisions and negotiate on price," Mr Lawless said.


Source: CoreLogic
According to Mr Lawless, annual rental growth has eased from a recent peak of 9.4 per cent in November last year to 8.7 per cent over the 12 months ending March 2022.
The quarterly pace of growth has rebounded through the first quarter of the year, from 1.9 per cent in Dec 2021 to 2.6 per cent in March 2022.
Mr Lawless said the rise in house prices is making units more attractive.
"Through the pandemic to-date, capital city house rents have risen by 13.8 per cent compared with a 3.4 per cent rise in unit values," he said.

"The net result is that renting a unit is substantially more affordable than renting a house. This affordability advantage, along with a gradual return of overseas migration, employees progressively returning to offices and inner city precincts regaining some vibrancy, are likely key factors pushing unit rents higher."
Mr Lawless said the overall property market has moved from being in a broad-based upswing, to what he describes as 'multi-speed'.
"Sydney and Melbourne, are recording flat to falling housing values, while at the other is Brisbane and Adelaide, where the quarterly pace of growth continues to rise at an annualised pace of more than 20 per cent," he said.
Despite the diversity, the outlook for housing remains skewed to the downside he said.
Factors including the prospect of higher interest rates, increasing levels of unaffordability, softer buyer sentiment and increasing listings are all likely to weigh on the broader market in the short term.
However, the recently expanded incentives for first home buyers, a stronger recovery and the return of immigration will likely help boost the prospects for the overall market.


[ad_2]

Source link